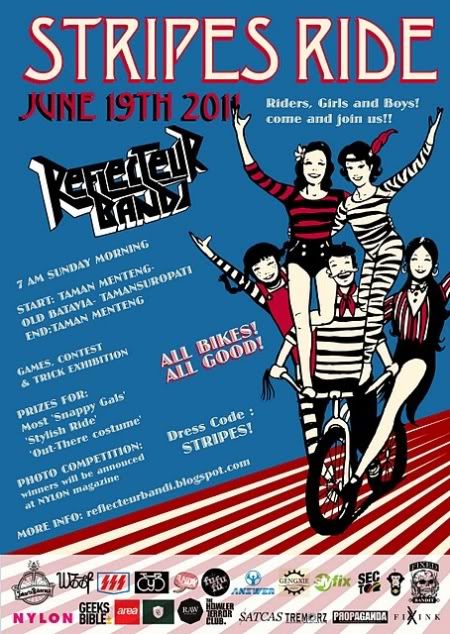 REFLECTEUR BANDI would like to thank our partners that are willing to provide us with priceless Prizes and participate as volunteer, Woof, SSS, Fufufu, Answer, Jakarta Bikerack, Fixink, Fixed Bandit, Cyclonesia, Tremorz, Sector, Gengxie, Slyfix, Propaganda, Funday Brakeless, Sirix, CoolCaps, Satcas and THTC
And Media partners who generously supports us, Nylon magazine, Area magazine, RAW, and Geeks Bible.
We thank you like there's no tomorrow!
PHOTOGRAPHY COMPETITION
You can use your Digicam, I-phone, BB, Instagram, Lomo, SLR, anything that cross your mind!! Take the picture related to the theme "Stripes Ride".
Winners will be announced at Nylon magazine!!! How cool is that...
Please register your application to enter the Photog Competition by emailing your:
Name
Phone Number
Email
To: Reflecteurbandi@yahoo.com
Good luck!